The Agile Elephant team attended Kongress Media's Enterprise 2.0 Summit in Paris on Tuesday & Wednesday this week – I was speaking on a panel on strategic engagement and running a workshop session on project management and governance.  Alan Patrick and Janet Parkinson will each be blogging their own thoughts, but this will be the first of two posts from me.  It will be an introduction to both the topic and the event, followed by my conference report as part 2.  We spent the two days at the World's oldest business school, ESCP Europe in Paris, talking enterprise 2.0, social business and open business… OK, what's that all about then, and why should you be interested?  Let me start by explaining a little of the background.
Where to start?  Back in May 2006, Andrew McAfee of the Harvard Business School started the wider use of the term Enterprise 2.0 as a kind of business oriented evolution of the web 2.0 term that was around at the time. He defined it as:
"Enterprise 2.0 is the use of emergent social software platforms within companies, or between companies and their partners or customers."
At that stage, the emergent tools were blogs, wikis, forums, document sharing, RSS feeds, microblogging and activity streams.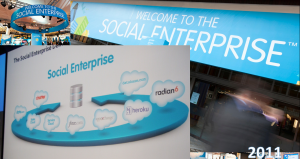 So the term has been around for over 8 years, but during this current decade the concept has evolved, and people have started to use the terms social business and social enterprise instead.  This is problematic as the term social enterprise had already been coined by Professor Muhammad Yunus to mean a business with a social rather than financial purpose.  That didn't stop Salesforce, in 2011, branding their major customer and partner events with "Welcome to the Social Enterprise" and even trying (and failing) to trademark the term.  Their definition of a Social Enterprise was one where social tools like Salesforce Chatter are used to connect and collaborate in new ways inside as well as outside of the organisation.  These social tools, and there are many of them, can provide a very different platform for teamwork compared to sending files by email, which is the default collaboration approach in most organisations, albeit occasionally modified by having some sort of shared drive or intranet as the file repository.  By 2012 Salesforce had dropped the term, but their shows declared "Business is Social".
We've also used terms like knowledge management, corporate social networking, social collaboration, or social media in business. Social Business should not be confused with the term Social Media, although it uses social media channels. Social Media incorporates social networking, blogging, microblogging, forums, user generated content, crowd sourcing, RSS feeds and more. All of those communication channels might be used in a Social Business approach, but it will involve other social collaboration tools along with a major change of mindset and culture for the organisation. A culture of openness, sharing and collaboration that goes hand in hand with today's digital disruption.  It's the antithesis of the old, corporate, command and control hierarchy where knowledge was power, and you were motivated to hang on to information, a valuable currency to keep private for your own use.
Enterprise 2.0, Social Business – part of our current problem is that neither of those terms work well, but the actual concept they are trying to describe can add real value to the bottom line in any organisation.
The Summit had some great speakers – Dion Hinchcliffe from Dachis, Rachel Happe of the Community Roundtable, Dan Pontefract of Telus, John Mell of IBM, Emanuele Quintarelli from Ernst & Young, Bertrand Duperrin of NextModernity, Lee Bryant of Postshift, and Luis Saurez just starting his journey having left IBM only days ago.  It was a packed agenda covering:
Success factors for social workplace adoption
Key drivers for leveraging social value generation & business transformation
Best practices for enhancing business performance and employee engagement
Visions for future work & process organization
The event was sponsored by IBM (who have the Connections platform), SAP (with their Jam platform), Jive and a number of other players – Sitrion, Bluekiwi, Xwiki, NextModernity, Lecko.  There might be over 100 social business platforms on the market, some of them are very good, but the players you'll come across more often with the larger customers or number of implementations are IBM, SAP, Jive and Yammer from Microsoft.
It was great meeting our friends across from USA and Canada, as well as meeting all of the key European social business practitioners in one place and learning from some great customer case studies.  Janet Parkinson, Alan Patrick and I were contributing to the tweet stream at #e20s and flying the Agile Elephant flag.  All of the tweets, tweeters, blogs and photos from the show so far have been collected together by Jim Worth (and the crowd) in this wiki.  Everyone will add links over the next week or so as we all catch up.  Bjoern Negelmann & Thomas Koch, the organisers, and their team did a great job of putting on a very valuable social business event.  Right at the end  Bjoern grabbed me to ask me my thoughts about the hackathon case study I had just presented on behalf of my team, along with my key takeaways from the conference:

My part 2 conference report is here.