'7 out of 10 of your colleagues don't give a sh*t about your company.  The biggest problem is employee engagement"  Luis Suarez at the Enterprise 2.0 Summit, Paris 2014
Luis was using figures from this Gallup survey which highlights how only 13% of employees worldwide are engaged at work. He's right – but why is this?  You only have to look at the rise in volume of Google searches for the term over the last 5 years to see just what a buzzword 'employee engagement' it is becoming, and it does lie at the heart of  the Social Business / Business Transformation / Enterprise 2.0 ethos – so why the poor figures?
There has been so much research produced over the years showing that employee engagement really does help the bottom line that no one can deny that benefits really do exist.  Take just one set of results by Gallup of meta-analysis of 1.4 million employees which shows that organizations with a high level of engagement do report 22% higher productivity, and Harvard Business Research which states:
'strong employee engagement promotes a variety of outcomes that are good for employees and customers. For instance, highly engaged organizations have double the rate of success of lower engaged organizations. Comparing top-quartile companies to bottom-quartile companies, the engagement factor becomes very noticeable. For example, top-quartile firms have lower absenteeism and turnover. Specifically, high-turnover organizations report 25% lower turnover, and low-turnover organizations report 65% lower turnover."
Social tools have been shown to be some of the most powerful enablers of employee engagement over the last few years as reports by McKinsey have shown.
Yet it seems that only now companies are catching up with the technology and beginning to take on board the true power of the social tools available to them. Having spent the last 5 years or so adapting their external marketing mix to absorb the power of social media, they are beginning to realise the full potential of internal social tools which are speeding up business processes and breaking down silos allowing employees to collaborate more effectively and at greater speeds.  Happier employees providing customer service support really does produce better customer service results. Companies now realise that with social tools which run in realtime they cannot remain hidden behind a wall.  They therefore no longer have the option to ignore it – employee engagement is about to hit big time.
As Luis notes in the interview below it is only in the last 2 years that we are beginning to hear more about behavior and how to influence mindsets rather than just hearing about the social tools.  "We are not there yet…  but now that we are talking about behavior we will begin to see a massive shift in the way that employees are engaged in the work that they do".
It was great to see though that employee engagement appeared as a key component of the Summit (which was after all traditionally a technology conference).  Yet it was right up front with both headliners. Dan Pontefract of Telus stated:
It's not the tools it's the behaviour
Engagement is a big driver of profitability which in turn is driving HR activity now
You can tie engagement to KPI drivers
and Jon Mell of IBM who noted:
Employee engagement drives customer satisfaction which drives profits
There are analytics now behind employee engagement which are key to the whole process, from interview questions to the proactive retention of the best employees
HR now has a seat at the table and has the power.
Many of the case studies touched upon engagement – though more often in terms of collaboration than specifically in terms of engagement.
Emanuele Quinterelli of Ernst & Young noted how in a survey of 300 Italian firms:
Currently the laggards tend to have no one in charge of collaboration as such
56% of laggards have virtually no budget for collaboration while the top performers have at least 100k Euros of yearly budget and use business metrics 3 times more
50% of laggards have no measurement, though only 9% of leaders have measurement in place
Leaders are engaging employees to engage customers
Martin Risgaard Rasmussen described how Grundfoss have deployed a program of culture change called Global Working Culture – run by HR.
HR – the company leaders of the future?

Following on from Jon Mell's remark there are others who agree that HR really does have a seat at the table and Mar.  Oracle president Mark Hurd last October called for HR to transform itself and start to lead and drive businesses:
'I want HR to help me run the company, to help with insight that will allow me to make the key business decisions, which will help the company grow…  Over the next decade HR as a function needs to lead and drive the business rather than react to it… It's going to have to drive it in a way that's more complicated than anyone has ever experienced before…  Turning from a support function to a leadership function will be core to what HR does in the next decade"
But in addition to HR let's not forget the role of community managers.  At the Summit Rachel Happe discussed how to drive engagement and adoption on social platforms.  "A Community Manager has to inspire, establish and normalize a behavior change, this drives ROI" she said in a recent interview.  Community managers do act as lynchpins to networks which are increasingly crucial to the whole social business process.  Their role can encompass not just the monitoring and enhancement of engagement right across a company but also can provide and evaluate what can work better for the success of engagement across the whole community.
Employee Engagement – The Vision
But perhaps the killer statement for me in terms of employee engagement came from a casual tweet by Luis on the second day of the Summit: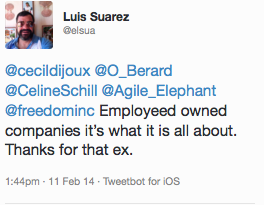 To truly engage employees to increase the performance and profitability of companies isn't the ultimate deal to enable employees to own shares in the company?
Employee ownership is indeed on the rise:
"Employee ownership, where workers have a voice as well as a stake in the success of their business, is recognised as a sustainable business model which helps drive staff commitment, productivity, resilience and innovation."  Real Business

And:
"Total return for shareholders in FTSE companies with employee share ownership rose by 53% in 2013, compared to 21% for companies in the FTSE All-share index, according to research by corporate finance firm Capital Strategies and the London Stock Exchange." Employee Benefits
It's becoming clearer that the way companies currently structure measurement and reward just isn't working.  If you want employees to be truly engaged and really feel part of the big picture then treating them as cogs in the wheel and rewarding them for just being good cogs is never going to be enough.  Having a stake in the business will motivate them to take a business sized view.
Best of all it appears that Luis even has the UK government on his side…
 "Policy makers are increasingly embracing employee ownership as a key sustainable business model, and over the last 18 months we have seen a significant increase in support for this sector. In his budget in April this year (2013), George Osborne announced that, with effect from 2014, the Treasury would set aside £50m in tax reliefs for the employee ownership sector.  On top of this, in yesterday's Autumn Statement George Osborne put the Government's money where its mouth is, pledging a further £25m in support of this fast-growing sector of the UK…"  Real Business

Well, we're not sure how many years we'll have to wait for employee ownership to really take off and become the norm – but perhaps Luis should come over to London to give George a helping hand 😉
Image by Frederic Williquet: @fredericw : https://twitter.com/fredericw/media