The Agile Elephant Unconference is designed to bring together digital transformation, social business, future of work and digital workplace specialists, consultants, practitioners and change agents to discuss:
digital transformation
social business
next generation enterprise
the future of work
how to do more, and do it better
The mantra for the day – what works, what doesn't, what's next?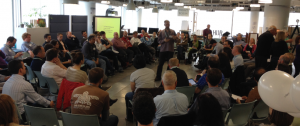 The date – 9:00 to 17:30 on a date to be arranged The place – To be arranged somewhere in central London (the first one was at Metro Bank's London HQ – One Southampton Row, London, WC1B 5HA – opposite Holborn Tube Station – on Google maps). Here are the ingredients:
A curated unconference using Open Space Technology (but with 30 minutes of conventional agenda at the start to kick things off)
As a group the Morning will start with 5 x 5 – five 5 minute lightning sessions from our volunteers to get your brain cells moving.
We'll split the room in to 3 unconference streams with timeslots across the day
4 time slots per unconference stream – a choice of 12 topics discussed in depth during the day
Bringing it all together – as a group we'll come back together at the end to discuss what we learned, how we capture the content and make some plans for what next?
Plenty of time for networking in and around the sessions in coffee and lunch breaks – the framework agenda is here
Elephant volunteers will help facilitate the day and make things run smoothly
We'll use social media to capture and share our energy and ideas from the day. Here's how:
We'd like all tweets, blog posts, photos and other output to use hashtag: #EleConf
One Tweet – contributions on social media are up to you, but after each session some of us will summarize or express the key thing they learned in 140 characters from that session. Every session will be allocated a hashtag to go with #EleConf – we'll have 4 time slots – 1 to 4, and 3 streams – A, B and C, so the hashtags will be #A1 to #C4 as well as #EleConf – the idea is to capture a record of the creativity, ideas and actions from the day – it would be great if you joined in
If you want to sign up to present one of the ten 5×5 sessions go to this post and add your session title and explanation in the comments. If we have more than 5 volunteers we'll convene a panel of judges from our #e20s Summit speakers to pick the best 5 topics.